---
CDGVAL, Charles de Gaulle airport shuttle train
CDGVAL allows you to move around landside Charles de Gaulle airport.
It links quickly and easily terminals 1, 2, 3 + RER-TGV railway stations + PR, PX remote car parks in 8 minutes.
Trains run every 4 minutes between 04:00 AM and 01:00 AM.
There's no fee to pay and no ticket is required.
---
Where to catch CDGVAL ?
---
TERMINAL 1
You can catch the CDGVAL shuttle train at ″CDGVAL level″.
 Access to/from RER
 Access to/from TGV
---
TERMINAL 2
You can catch the CDGVAL shuttle train in the lobby of the TGV-RER station Aéroport Charles de Gaulle 2-TGV.
Access to-from terminals 2A, 2B, 2C, 2D, 2E and 2F by foot (recommended) or by shuttle bus.
Access to-from terminal 2G by shuttle bus from terminal 2F.
 Access & Map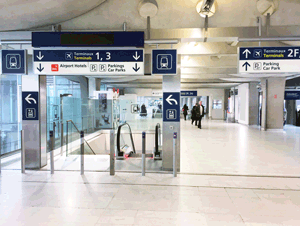 ---
TERMINAL 3-Roissypole
You can catch the CDGVAL shuttle train in the lobby of the RER station Aéroport Charles de Gaulle 1.
Access to-from terminal 3 by following the pedestrian pathway (8 min approx).
 Access & Map
---